2021 Honda CR-V Hybrid Vs. Toyota RAV4 Hybrid: PROs & CONs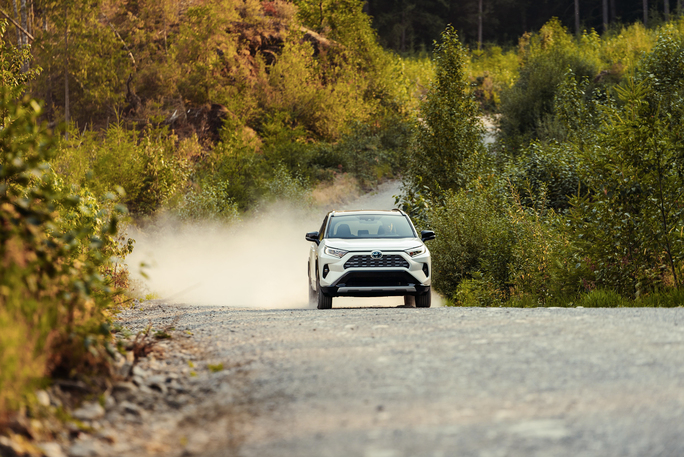 Compact hybrids are extremely popular these days, and it's no wonder. They're safe, convenient, and spacious while still being sporty and efficient. That's why the team from 1000 Islands Toyota wanted to compare the two hottest hybrids of 2021: the Honda CR-V Hybrid and the Toyota RAV4 Hybrid.
Below we've compared some of the most vital features and components, as well as the performance of today's best-selling hybrids.
Fuel Economy
When it comes to fuel economy, any hybrid will be more efficient than your standard vehicle, but the RAV4 Hybrid stands out in this category with an EPA-rated 41/38/40 (city/highway/combined) mpg compared to the Honda CRV-Hybrid's 40/35/38 mpg.
Powertrain
The RAV4 Hybrid is equipped with an inline-four-cylinder, 2.5-liter engine. It also has three electric motors: two up front and one on the rear axle. Between that and its lithium-ion battery, it offers around 219 horsepower. The Honda CR-V Hybrid on the other hand is equipped with only a 2.0-liter engine and an electric generator for the powertrain and one equipped with the lithium-ion battery pack. However, it only offers a 212 horsepower output.
Controls
Although the Honda CR-V Hybrid's touchscreen is located high on the dash for easy access, it's still lacking when it comes to functionality. This is because it doesn't have the best response or usability as the Toyota RAV4 Hybrid's. The RAV4's touchscreen system might appear slightly outdated when you compare the two. But it's more user-friendly, boasting straightforward menus and more physical controls to improve response time.
Visibility
For some drivers, the visibility is high on the list when choosing cars, and it should be. The more you see, the better you're able to drive. When it comes to visibility, the RAV4 offers greater visibility for a number of reasons, the first being that it boasts a 360-degree camera system. This makes parallel parking and getting around in tight areas much easier. In the CR-V, two areas block the driver's vision, the middle position seatbelt that comes down from the ceiling and its top tether anchor.
Cargo Space
Believe it or not, when it comes to cargo space, both hybrid models are a pretty even match, each boasting a 60/40 split backseat that folds down. They also each have a hands-free liftgate that's user-friendly.
Safety
Another very important feature when it comes to a vehicle, the RAV4 comes equipped with Toyota's signature Safety Sense 2.0 System, which includes a host of things that the CR-V's Honda Sensing standard safety system doesn't. In addition to the 360-degree camera we've already mentioned, the RAV4 is outfitted with pedestrian detection, automatic high beams, road sign and lane-keep assistance, and steering assistance along with its lane departure warning.
Media & Connectivity
Although both the 2021 RAV4 Hybrid and the Toyota CR-V Hybrid clock in pretty close in the media and connectivity department, it came down to sheer numbers: the RAV4 has one additional USB cable. But both vehicles function with Android Auto as well as Apple CarPlay.
Steering & Handling
By driving both of these vehicles, it's easy to get a good idea of which one steers and handles the best. Again, when it comes to maneuverability, that 360-degree camera outfitted to the RAV4 made it easier to handle tight spots and turns. The CR-V, however, feels a little bigger than it actually is and doesn't have steering that's as responsive as the RAV4.
Noise
Although hybrids are known to be extremely quiet, both these compact SUVs kick up the soundwaves. That's their engines and they both can sound rather gruff, but not overpowering. In this case, it's a tie. However, other road noise isn't much of an issue as both vehicles are well insulated from noise.
Braking
When it comes to brakes, you want your car to stop on a dime, and that's just what the 2021 RAV4 Hybrid does. It offers a firmer pedal similar to non-hybrid vehicles. When shopping for hybrids it's important to note that they use a regenerative braking system that doesn't feel like driving a normal vehicle, but the RAV4 disguised it well.
Vehicle Autonomy & Driver-Assist Technology
Both the RAV4 and CR-V hybrids have adaptive cruise control that works well but the RAV4 had one additional feature than the CR-V that sent it over the top in terms of autonomy and drive-assist technology. That was that it offers lane-centering steering at much lower speeds. Both vehicles however did offer lane-centering steering at higher speeds, however.
Before You Go...
Although both the 2021 RAV4 Hybrid and Honda CR-V Hybrid are some of the top compact hybrids on the market today, the RAV4 beats the CR-V in several of the most important categories: fuel efficiency, acceleration, braking, and safety.
Contact us today for Toyota's in the Brockville and Kingston areas
If you're in the market for a new or used vehicle, the team from 1000 Islands Toyota makes it easy to shop from home. You can browse our inventory online and even take a virtual test drive. If you have any questions or want to set up a visit to our location, contact us online or call (613-342-9111).
In addition to our auto inventory, 1000 Islands Toyota also operates a comprehensive service center and provides collision repair services, so don't hesitate to give us a call.