Toyota Canada's 2022 Electric Cars: The bZ4X and the Mirai
Toyota Canada is gearing up for a big electric future! This year, the automaker is introducing two brand-new electric cars to its lineup. The first is the 2022 Toyota bZ4X, an all-electric SUV that's packed with advanced technology and innovative features. The other new addition is the 2022 Toyota Mirai, a hydrogen fuel cell car that emits nothing but water vapour from its tailpipe. Both of these vehicles are emblematic of Toyota's commitment to environmental responsibility and sustainable innovation.
Here is an update on the electric cars coming in 2022 from Toyota Canada.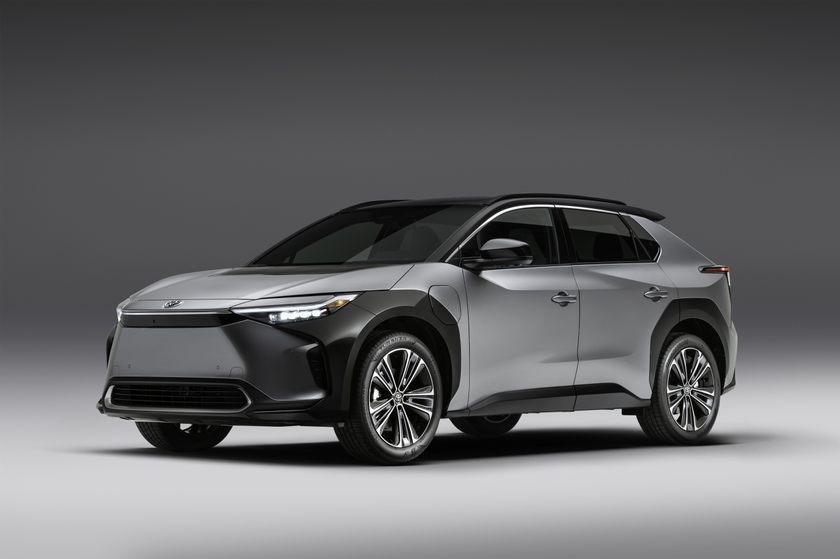 The 2022 Toyota bZ4X electric SUV
This electric SUV is all-new for 2022 and comes packed with Toyota's latest technology. The bZ4X series was developed under the banner of "Beyond Zero" with an aim to deliver vehicles that emit zero emissions. The b4X electric cars will be available in a variety of countries, including Canada.
While the bZ4X will have distinctly futuristic and modern styling, it also has Toyota's signature style to make it undeniably a Toyota from every angle. Front-wheel drive models of the car will have a 400-kilometer range, and all-wheel drive models will have a lower range of around 320 kilometers.
The electric SUV is just one of the many electrified vehicles in Toyota's lineup. The automaker offers a full range of hybrid electric vehicles (HEVs), plug-in hybrid electric vehicles (PHEVs), and all-electric vehicles (EVs). In fact, Toyota was a pioneer in HEV technology, introducing the world's first mass-produced hybrid electric car, the Prius, over two decades ago.
The 2022 Toyota Mirai hydrogen fuel cell car
The other new electric car joining Toyota's lineup is the 2022 Toyota Mirai. This hydrogen fuel cell car runs on electric power generated by a chemical reaction between hydrogen and oxygen. The only emission from this process is water vapour, making the Mirai a zero-emissions vehicle.
All-Electric Drivetrains
The bZ4X delivers Toyota's all-electric drivetrain for the first time in Canada, on a brand new, unique model. Electric cars have several advantages over traditional gasoline-powered cars, including lower emissions, cheaper operating costs, and quieter operation.
The electric motors in the bZ4X are powered by a lithium-ion battery pack located under the floor. This gives the car a low center of gravity for improved handling and stability. The electric drivetrain also provides instant torque and responsive acceleration.
The battery pack can be recharged in a variety of ways. For example, it can be plugged into a standard household outlet, or a Level-Two charger, which will charge the battery much faster. Toyota is also working on wireless charging technology, which will make charging even more convenient in the future.
Hydrogen Fuel Cells
Although less well-known, hydrogen fuel cell electric vehicles (FCEVs) are another type of electric car. The Toyota Mirai is a hydrogen FCEV, and it's the first of its kind in Canada.
Hydrogen fuel cells generate electric power through a chemical reaction between hydrogen and oxygen. The only byproduct of this reaction is water vapour, making FCEVs zero-emissions vehicles.
FCEVs have a number of advantages over battery electric vehicles (BEVs). For example, they can be refuelled much faster than BEVs. It only takes about five minutes to refuel a hydrogen FCEV, compared to the several hours it takes to recharge a BEV.
FCEVs also have a longer range than BEVs. The Toyota Mirai, for example, has a range of 647 kilometers. This is nearly double the range of the bZ4X electric SUV.
Toyota Introduces Its Most Technologically Advanced Models
Beyond the major changes to the power source for these cars, the new electric cars from Toyota Canada offer the latest in technology and design. The bZ4X electric SUV series was developed under the banner of "Beyond Zero" with an aim to deliver vehicles that emit zero emissions.
The bZ4X model features electric all-wheel drive with independent motors on each axle, providing not only added traction but also the ability to adjust the torque split front-to-rear and side-to-side. This electric SUV also comes with an all-new platform that's been specifically designed for electric vehicles.
As for the Toyota Mirai, it features a unique design that sets it apart from other cars on the road. The car has a long, low hood and a wide stance that gives it a commanding presence. The Mirai also has an aerodynamic body that's been designed to minimize drag and help maximize range.
Driver technology and infotainment also promise to be some of the marque's most advanced, with large displays and intuitive controls. The electric cars from Toyota Canada offer the latest in technology, design, and power sources, making them some of the most advanced vehicles on the road today.
The electric cars from Toyota Canada are some of the most technologically advanced models on the market. With their cutting-edge design and innovative features, these cars are sure to turn heads and get people talking. Be sure to check out the 2022 Toyota bZ4X electric SUV and the all-new Toyota Mirai hydrogen fuel cell car. You won't be disappointed.
Check out the Brand-New Electric Cars from Toyota Canada at 1000 Islands Toyota
If you've been thinking about getting an electric car, now is the time to act. Toyota Canada has just introduced its brand-new electric cars for 2022, and they are sure to impress.
Learn more today by contacting 1000 Islands Toyota or visiting us!