Meet The 2022 Toyota Corolla Cross
The Toyota Corolla has long been one of Toyota's best-selling models, a perennial favorite due to its excellent build quality and versatility. So what happens when Toyota takes the reliability and superior value of the Corolla and turns it into a subcompact SUV? You get the 2022 Toyota Corolla Cross - a unique vehicle that could be perfect for busy families that need a car with a little of everything.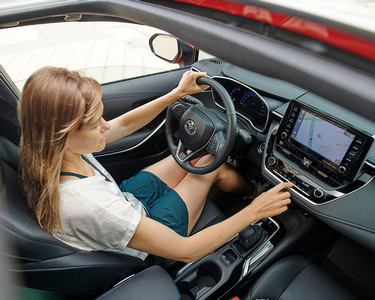 The Corolla Cross is going up against competitors such as the Mazda CX-30 and the Kai Seltos. What makes Toyota the better buy? Let's take a look at the advantages of the Toyota Corolla Cross!
Why Your Family Should Consider A Toyota Corolla Cross
1 - Fair pricing
Right off the bat, one of the most attractive things about the 2022 Corolla Cross is its price: the base model - the Corolla Cross L - starts at only $24,890 MSRP. Even the top-range model, the Cross XLE, comes in at a budget-friendly $33,990. Meanwhile, our pick for the best combination of price and performance, the LE, has an MSRP of $27,090 for the FWD version, or $28,490 for the AWD model.
That makes it more affordable than nearly all of its competitors, while still including all the features and performance you'd expect from Toyota.
2 - A comfortable, spacious interior
If you've driven a recent Corolla before, you won't find too many surprises in the Corolla Cross. The interior is largely the same as other Corollas, although with a few new color options, such as snazzy white trim and white seats. Since Toyotas already have some of the most comfortable and spacious interiors in the industry, there's no reason to mess with success.
However, because the Cross has a higher ride height, as well as a higher roof line, it's easier to get in and out, and you get amazing visibility around the car. The Cross is also great for taller people because there's more headroom than in a typical Corolla or other compact car. Legroom is above average as well, which your larger passengers will appreciate!
Another nice feature is a combination of a highly-responsive center-dash touchscreen, while still including physical controls for most basic console functions like audio volume and A/C control. This best-of-both-worlds design ensures you'll be comfortable operating your Cross, whether you prefer analog or digital controls.
3 - A smooth, reliable drive
Like all Corollas this year, the Toyota Corolla Cross is powered by a 2.0-liter four-cylinder engine, with 169 horsepower and 151 ft-lp of torque. While there are more powerful engines on the road, this is a good balance between performance and fuel consumption. The Cross is built for city driving, and you won't ever find yourself lacking for speed or responsiveness on the road.
As such, it also drives much like a Corolla - just one which is raised up to give you better control and a higher view. The suspension system is also impressively good, able to handle even poor road conditions with very little bumpiness transferring into the cabin.
Another creative addition is a single physical first gear, separate from the Constant Variable Transmission. This ensures the Corolla Cross has the oomph needed to quickly get moving from a stop, while otherwise retaining the benefits of a CVT.
4 - Superior safety features
Toyota has long been one of the leaders in smart car safety features, which is one of the big reasons Toyota is so trusted for family vehicles. Few manufacturers go so far to help ensure the safety of their drivers and passengers.
The list of standard and optional safety features is almost too long to go into, but to hit some of the highlights:
Nine airbags:

With front, rear, overhead, and side airbags, your Corolla Cross will be exceptionally safe in all types of collisions, reducing injury in the worst of cases.

Blind Spot Monitoring:

Cameras mounted around the car monitor its known blind spots, and alert you instantly if a vehicle or pedestrian strays too close to the vehicle out of your site.

Smart LED fog lights:

Fog is always tricky at night, but the LED fog lights on the Corolla Cross are specifically tuned to minimize glare while still providing better visibility on foggy nights.

Pre-collision warnings:

If you're veering too close to a vehicle or pedestrian, the car will alert you before the collision to give you more chance to dodge.

Dynamic radar-driven cruise control:

Instead of 'dumb' cruise control, the Cross actively monitors the speeds of nearby cars and slows down if their speed decreases, reducing the chances of an accidental impact.

Automatic high beams:

If high beams are active, the vehicle will automatically turn them down when incoming traffic is seen - increasing safety for you and other drivers.

Lane tracing and lane departure warnings.

Your Toyota Corolla Cross is monitoring the road lines and will alert you if you start to slide out of your lane.

Road sign assistance.

The cameras around the Cross are keeping track of signs around you and will notify you for changes such as speed zones.
All in all, this adds up to a truly superior vehicle and one which upholds Toyota's commitment to quality. 1000 Islands Toyota proudly carries recent Toyota Corolla Cross models, along with a full range of other quality Toyota vehicles, both new and used.
No matter your budget or needs, there's a Toyota to match! Come by 1000 Islands Toyota to see our stock or test drive your next Toyota!